Admissions
Located near the Gulf of Mexico in Mobile, Alabama, USA is a vibrant institution providing top-notch educational programs with one of the lowest tuition rates in Alabama.
Whether you are an incoming
freshman
,
transfer
,
graduate
, or
international
student, we are here to assist you in the admissions process.
APPLY NOW
to get started. If you have questions throughout the application process, find your
admissions representative
who will be happy to assist you. We hope to see you on campus soon! GO JAGS!
Check out "Students of South," a new feature introducing you
to USA students. This week's student is Tyler Hogg!
Meet Our Recruiters
At the University of South Alabama, we believe in the importance of providing personal attention to each individual within the context of the university admissions process. Our recruitment counselors will be available and accessible to you throughout the college search and application process.
Use the
Find Your Recruiter page
and select the options that will help you to find your personal recruitment counselor.

Hi! I'm Heather Nix, Associate Director of New Student Recruitment. Our recruitment team is here to help you throughout your admissions process, so please visit the Find Your Recruiter page to contact the representative for your area.
Heather Nix
Blogs
Check out our student blogs to learn more about being a student at USA. You can also connect with the students on Facebook.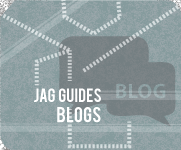 Connect
Connect with USA faculty, students, alumni and friends on our social media outlets: