2017-2018 Musical Arts Concert Series
COMING SOON
2018-2019 MUSICAL ARTS CONCERT SERIES
WE HOPE TO POST THE NEW INFORMATION BY JULY 15.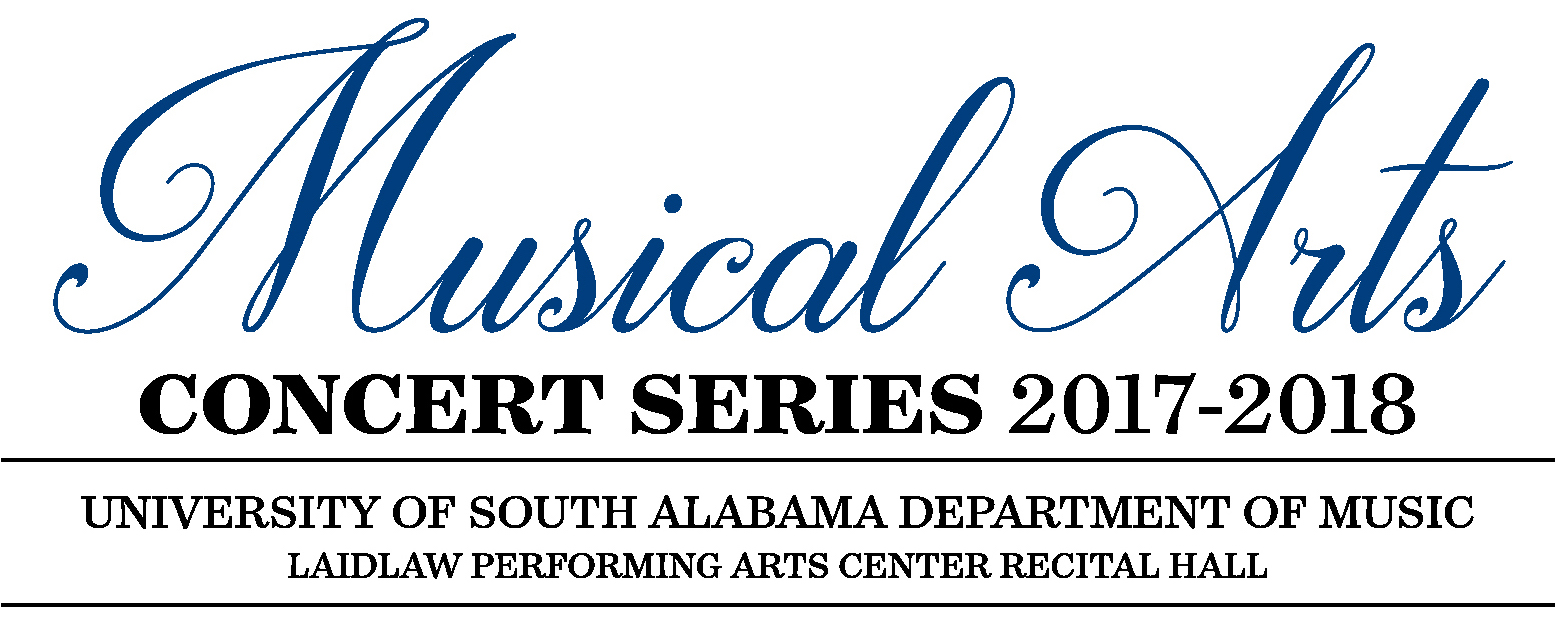 2017-2018 Musical Arts Concert Series

Click to see this season's Musical Arts Concert Series season brochure.
Click for the application form to join the Musical Arts Society and get the MAS Season Pass.
Scroll down for the 2017-2018 Musical Arts Concert Series Schedule or check out the Upcoming Concerts Calendar on the right!
We add concerts to our schedule all the time! Check the Concert Calendar on the right for added concerts!
2017-2018
MUSICAL ARTS CONCERT SERIES
Serving both the university community and the entire Gulf Coast region through profound artistic and academic achievement, the Department of Music Musical Arts Concert Series features faculty recitals and student ensemble performances worthy of inclusion on anyone's "not-to-be-missed" list of events. Regular Musical Arts Series attendees have been treated since 2001 to an average of 35 concerts per season, and this season will be no exception! Student ensemble programs range from regular concerts by the Wind Ensemble, Symphony Band, University Chorale, Opera & Musical Theatre, Percussion Ensemble, Concert Choir, USA Symphony Orchestra, Jazz Ensemble, Flute Choir, various World Music Ensembles, Brass Ensembles, and Piano Ensembles, while the performing faculty normally is represented in half of the concerts in the form of terrific solo and chamber ensemble recitals.
Scheduled in USA's Laidlaw Performing Arts Center 240-seat Recital Hall, concerts generally begin at 7:30 p.m. for evening performances and at 3:00 p.m. for scheduled Sunday events. Tickets for admission to all MAS concerts and other ticketed events are normally sold at the door only (except where indicated) and the hall is open to our patrons approximately 45 minutes in advance of each presentation. Except where indicated, tickets are $8 each for general admission and $5 for USA faculty & staff, USA students, youths under 18 and all senior citizens. (Presently we accept cash or checks only.) Questions regarding special accommodation or other considerations should be directed to the Events Coordinator at (251) 460-7116 or the Music Department Staff at (251) 460-6136. Questions also may be emailed to Keith Bohnet at kbohnet@southalabama.edu.

SEASON PASSES and the
USA MUSICAL ARTS SOCIETY
Interested in buying an economical pass to our MAS concerts? Members of the university community and residents of the region-at-large are invited to show their support of the University of South Alabama music program by purchasing a Season Ticket and/or by joining the department's Musical Arts Society. In pursuing this option, you will have the opportunity to buy either an Individual Season Ticket or the Family Season Ticket, allowing you the freedom to attend all the faculty recitals, student recitals and ensemble concerts listed on our schedule. These season passes are offered to you at a discounted rate and provide the convenience of entering the venue without the hassle of cash or writing a check!
Persons interested in receiving a Season Ticket Purchase Form should do one of the following:
Click on Season Ticket Purchase Form, print the form and send it to us!
Contact the department secretary, Peggy Doyle, by calling (251) 460-6136 or via email at pdoyle@southalabama.edu, being certain to provide your mailing address and a phone number. When calling or emailing, be sure to let us know specifically that you want the Season Ticket Purchase Form for the Musical Arts Concert Series.

RESERVING SEATS
Musical Arts Series pass holders may now reserve a place at concerts! Pass holders may have a seat held for them and other pass holder guests by calling or emailing by 5:00 p.m. the business day previous to the concert. Contact events coordinator Keith Bohnet by voice at (251) 460-7116 or email kbohnet@southalabama.edu and let him know how many pass holder seats you are reserving. Reserved seats will only be held until 20 minutes before any scheduled performance time.

ADDITIONAL TICKETED CONCERTS
or "Other Laidlaw Concerts"
Musical Arts Series pass holders may use their passes for admission to ALL Music Department ticketed concerts (with occasional exceptions). We add concerts to our schedule all the time and your pass can be used for the Musical Arts Concert Series AND our other ticketed Music Department concerts as well. Check for updates on the Department of Music Events calendar at www.southalabama.edu/music
2017-2018 MUSICAL ARTS CONCERT SERIES SCHEDULE

August

Tuesday, August 29, 2017 – 7:30 p.m.
Rebecca Mindock, Faculty Bassoon Recital

September

Tuesday, September 5, 2017 – 7:30 p.m.
Andra Bohnet, Faculty Flute Recital
Beau Soir - Impressions for Flute and Harp
with harpist Katie Ott, flutist Travis Jones and violist Matt Watts

Tuesday, September 12, 2017 – 7:30 p.m.
The Archduke Trio, Faculty Chamber Concert
with violinist Enen Yu, cellist Guo-Sheng Huang
and pianist Robert Holm

Tuesday, September 26, 2017 – 7:30 p.m.
USA Symphony Band and Wind Ensemble Concert
Jason Rinehart and William H. Petersen, conductors

October

Monday, October 2, 2017 – 7:30 p.m.
Thomas L. Rowell, tenor
Faculty Voice Recital with pianist Robert Holm

Monday, October 9, 2017 – 7:30 p.m.
USA Concert Choir and University Chorale
Fall Choral Concert
Laura M. Moore, conductor

Tuesday, October 10, 2017 – 7:30 p.m.
Kip Franklin, Faculty Clarinet Recital

Tuesday, October 17, 2017 – 7:30 p.m.
Peter Wood, Faculty Trumpet Recital

Monday, October 23, 2017 – 7:30 p.m.
USA Percussion Ensemble Fall Concert
Luis Rivera, director

Thursday, October 26, 2017 – 7:30 p.m.
USA Jazz Ensemble Fall Concert
Tracy Heavner, director

Sunday, October 29, 2017 – 3:00 p.m.
Early Autumn
Joyce Sylvester, Faculty Voice Recital
with pianist Robert Holm

November

Wednesday, November 1, 2017 – 7:30 p.m.
USA Flute Choir and Celtic Crúe Fall Concert
Andra Bohnet, director

Thursday, November 2, 2017 – 7:30 p.m.
USA Piano Ensembles Fall Concert

Tuesday, November 7, 2017 – 7:30 p.m.
USA Symphony Band Fall Concert
Jason Rinehart, conductor

Thursday, November 9, 2017 – 7:30 p.m.
USA Wind Ensemble Fall Concert
William H. Petersen, conductor

Friday, November 10, 2017 – 7:30 p.m.
USA Brass Ensembles Fall Concert
Peter Wood, director

Thursday, November 16, 2017 – 7:30 p.m.
USA Woodwind Ensembles Fall Concert
Rebecca Mindock and Kip Franklin, directors

Friday, November 17, 2017 – 7:30 p.m.
USA Opera Theatre presents
Scenes from Opera and Musical Theatre
Thomas L. Rowell, director

Sunday, November 19, 2017 – 3:00 p.m.
USA Opera Theatre presents
Scenes from Opera and Musical Theatre
Thomas L. Rowell, director

Tuesday, November 28, 2017 – 7:30 p.m.
USA Concert Choir and University Chorale
Holiday Choral Concert
Laura Moore, conductor

January

Monday, January 29, 2018 – 7:30 p.m.
Faculty & Friends USA Chamber Winds Concert

Tuesday, February 6, 2018 – 7:30 p.m.
Michael Morton, Guest Artist Flute Recital

Tuesday, February 20, 2018 – 7:30 p.m.
USA Wind Ensemble Winter Concert
William H. Petersen, conductor

Monday, February 26, 2018 – 7:30 p.m.
USA Symphony Band Winter Concert
Jason Rinehart, conductor

Tuesday, February 27, 2018 – 7:30 p.m.
Robert Holm, Faculty Piano Recital

March

Monday, March 5, 2018 – 7:30 p.m.
USA Concert Choir and University Chorale
Winter Choral Concert
Laura Moore, conductor

Monday, March 12, 2018 – 7:30 p.m.
USA Percussion Ensemble Spring Concert
Luis Rivera, director

Monday, March 19, 2018 – 7:30 p.m.
USA Piano Ensembles Spring Concert

Thursday, March 22, 2018 – 7:30 p.m.
USA Jazz Ensemble Spring Concert
Tracy Heavner, director

April

Thursday, April 5, 2018 – 7:30 p.m.
USA Symphony Orchestra Spring Concert

Wednesday, April 11, 2018 – 7:30 p.m.
USA Woodwind Ensembles Spring Concert
Rebecca Mindock and Kip Franklin, directors

Thursday, April 12, 2018 – 7:30 p.m.
USA Flute Choir and Celtic Crúe Spring Concert
Andra Bohnet, director

Friday, April 13, 2018 – 7:30 p.m.
USA Brass Ensembles Spring Concert
Peter Wood, director

Friday, April 20, 2018 – 7:30 p.m.
USA Opera & Musical Theatre presents
The Gondoliers by Gilbert & Sullivan
Thomas L. Rowell, director
(No MAS passes for admission to this concert – see below for special ticket information)

Saturday, April 21, 2018 – 7:30 p.m.
USA Opera & Musical Theatre presents
The Gondoliers by Gilbert & Sullivan
Thomas L. Rowell, director
(No MAS passes for admission to this concert – see below for special ticket information)

Sunday, April 22, 2018 – 3:00 p.m.
USA Opera & Musical Theatre presents
The Gondoliers by Gilbert & Sullivan
Thomas L. Rowell, director
(No MAS passes for admission to this concert – see below for special ticket information)

Advance tickets for The Gondoliers performances may be purchased beginning in April. $15 general admission and $10 for USA Faculty/Staff/Students and senior citizens (cash or check only). MAS pass holders must purchase a separate ticket for this event. See www.southalabama.edu/music in Spring 2018 for specific sales information.

Wednesday, April 25, 2018 – 7:30 p.m.
USA Steel Band and World Music Ensemble
Spring Concert
Luis Rivera, director

Thursday, April 26, 2018 – 7:30 p.m.
USA Concert Choir and University Chorale
Spring Choral Concert
Laura Moore, conductor
__________________________________________________________________
AND, you're invited to a special Saenger Theatre Band Concert in downtown Mobile!!

Tuesday, April 24, 2018 – 7:30 p.m.
USA Symphony Band and Wind Ensemble Spring Concert
at the downtown Mobile Saenger Theatre
Jason Rinehart and William H. Petersen, conductors
__________________________________________________________________